Jun. 01, 2019
The structure of the Air-cooled Screw Chillers optimized at high speed. When the operation is stopped, the main body of the air-cooled screw chiller is used to support the body. The structure of the whole equipment is simple and compact, and the equipment adopts high-quality screw compactor and high-efficiency heat exchanger. Perfect combination, energy efficiency ratio up to 4.5.
Water-cooled Screw Chiller features: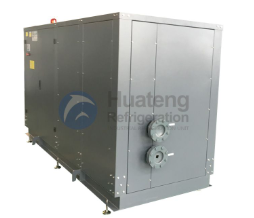 The water-cooled screw chiller has a large cooling capacity and a small volume. In the process of stopping the manufacturing, the world famous brand imported squeezing machine is mainly used.
The water-cooled screw chiller is equipped with perfect indicator light. When it is stopped, its switch and operation are well-known. The whole built-in electronic water level indication and alarm installation, the operation staff will effectively pass your control panel. It can effectively control the water level of the chilled water tank.
The screw chiller unit has a very reasonable design, compact structure, small size, and beautiful appearance.