Apr. 01, 2022
When selecting a chiller for an application, it is necessary to ensure that the unit is adequately sized to handle the maximum process load under the worst possible field conditions. However, customers may not be able to plan for these conditions and make sizing decisions based on the nominal conditions that often appear in product brochures. This can lead to improperly sized systems that can cause problems under actual operating conditions. There are several important factors that must be considered when sizing a chiller. These include maximum ambient temperature, discharge water temperature, glycol concentration and altitude.
Table of Contents
1. Nominal Conditions
2. Ambient Conditions
3. Water supply temperature
4. Glycol
5. Altitude/elevation (above sea level)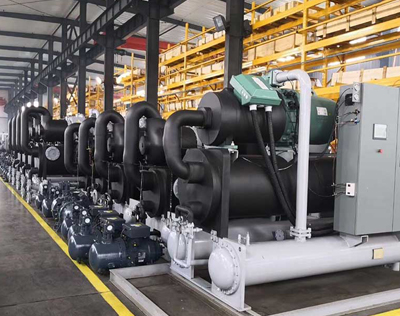 Air Cooled Scroll Chiller
1. Nominal Conditions
Cooling capacity is usually stated under nominal conditions.
In North America, nominal conditions are considered to be 45°F outlet, 55°F inlet and 95°F ambient. Some companies, especially those targeting the European market, may demonstrate cooling capacity under completely different conditions.
In Europe, nominal conditions are defined as 15°C (59°F) outlet water temperature, 20°C (68°F) inlet water temperature, and 25°C (77°F) ambient temperature. So, what's the difference? Consider a chiller rated at 10.8 kW at 59/68/77 and only 7.9 kW at 45/55/95. That's a difference of about 25%. You can find the high quality chiller, click here.

2. Environmental Conditions
As the ambient temperature increases, the cooling capacity decreases. Referring to the example above, a change from 68°F to 95°F ambient temperature will result in a 15% reduction in cooling capacity. If the cooling capacity is calculated at a higher ambient temperature of 113°F, there is an additional 10% reduction. Conversely, conditions in the refrigeration condenser are more favorable when the ambient temperature is lower. This allows for a lower pressure head and higher efficiency in the refrigeration circuit, thereby increasing the available cooling capacity.
It is also important to note that the ambient temperature does not necessarily mean the outdoor temperature. The outdoor air temperature may be 80°F, but the indoor air temperature is higher. Bring it to a more localized location and the average indoor air temperature may be within specification, but the condition at the condenser coil inlet is sufficient to cause a failure. This is especially true if the hot exhaust air from the cooler is being recirculated.
3. Water supply temperature
The required water supply temperature also affects the chiller's cooling capacity. As the water temperature rises, the cooling capacity increases. This means that if a unit is rated at 10 tons at 45/55/95 and the application requires a water temperature of 40°F, the 10-ton unit will now only have 90% of its original rated capacity. This also works in the opposite direction to a limited extent. If a 10 ton unit is run at a 70°F outlet instead of 45°F, the capacity will increase by 20%.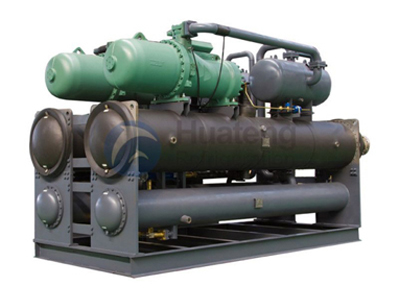 Water Cooled Screw Chiller
4. Glycol
Outdoor installations with low ambient conditions require the use of glycol because of its ability to lower the freezing point of the coolant. Many industrial glycols also include a mixture of corrosion and/or biological inhibitors, which makes these solutions popular for indoor applications. What many people don't realize is that the cooling capacity of a chiller is directly affected by the use of glycol coolant. Since glycol has a lower specific heat than water, water/glycol solutions are not as effective as plain water in terms of heat transfer. Although the negative impact of glycol is only about 1% capacity derating per 10% glycol solution, this factor still needs to be considered when sizing chillers.
5. Altitude/elevation (above sea level)
While you won't find chillers installed at the top of Mount Everest, it's not uncommon to find chillers installed in Denver, Colorado or Toluca, Mexico. In the veritable Mile High City, a chiller operating at 45/55/95 conditions will operate at approximately 17% less capacity than if it were operating at the same 45/55/95 conditions at sea level. At even higher elevations is Toluca, Mexico. This city is only 9,000 feet above sea level. In this case, the chiller can only operate at 72% of its rated capacity.
Huazhao have been focusing on provide professional solutions for all our foreign and domestic customer in different business and earn a good reputation. Huazhao is the leading international chiller supplier, if you need know price about chiller, please contact j.li@szhuateng.com.